Builder Device Clouds
The EmbedThis Builder provides a suite of device clouds offerings tailored to meet different development lifecycle and scale needs.
An evaluation cloud is provided for quick and easy Ioto evaluations. The eval cloud is pre-created and ready to go.
Hosted device clouds can be created to give you a private space for your devices and your customers devices without the hassle of managing an AWS account.
Dedicated device clouds can be created in an AWS account of your choosing provide the access to the full suite of AWS services.
You can pick the device cloud that best suits your development stage and scale of your deployments.
Evaluation Cloud
The Eval cloud is a pre-created, shared cloud that is ready for your evaluation of the Ioto cloud-based management solution. It is ideal for quick and easy evaluations of Ioto without the hassle of creating device clouds or AWS cloud accounts.
The Eval cloud is a shared resource, but your data is fully isolated, private and secure and can only be accessed by you.
The Builder pre-configured with an Eval Ioto product definition and the Ioto eval download is pre-configured to register with the eval cloud. All you need to do is download Ioto then build and run Ioto.
After running Ioto, you can claim the device for your exclusive management from the Device Manager by entering the Ioto claim ID that is displayed on the console. From there, you can view data and interact with your device.

The Device Manager cannot be customized in the Eval cloud. When you are ready, you can create a Hosted Cloud and fully customize the Device Manager.
The Eval cloud is hosted in the AWS us-east-1 (Virginia) region.
Hosted Clouds
Hosted device clouds are device clouds in a local AWS region of your choosing. Hosted clouds are dedicated device clouds for your exclusive use, created, managed and maintained by EmbedThis for you.
Your device data is private and always remains in the region you select and device data is never sent outside of that region. For projects that require that their data remain local and not cross country borders, this is an ideal solution.
The Device Manager for hosted device clouds, can be fully customized with your product name, logo, theme, display components and device data schema.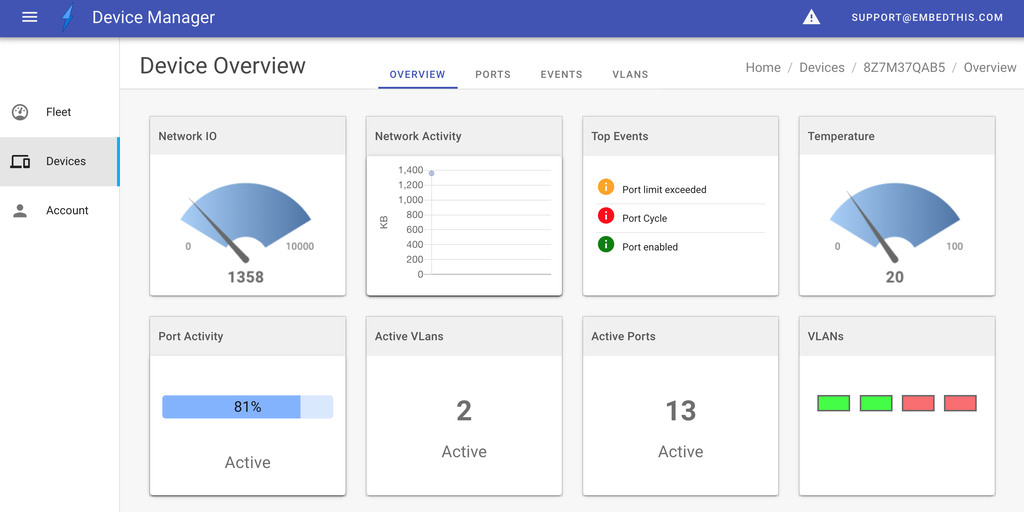 Dedicated Clouds
If you require custom processing or absolute control over every aspect of your device cloud, then a dedicated device cloud is an ideal solution.
A dedicated device cloud is a device cloud created in an existing AWS account that you own and control. With this option, you have the the ultimiate in control as to how your device data is processed.
Dedicated device clouds can run any AWS service and process device data in highly customized ways with other workloads essential to your cloud service.
Want More Now?
To learn more about the EmbedThis Builder, please read: